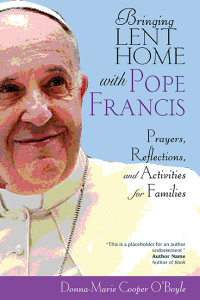 I have bundled all four of my Lenten books for purchasing at the ridiculously low price of $11.00 for all four!
Here's a brief note from the publisher about the newest one and about the series:
In Bringing Lent Home with Pope Francis, popular author and EWTN host Donna-Marie Cooper O'Boyle, offers Pope Francis as a guide through Lent. Guided by the threefold Lenten practices of prayer, fasting, and almsgiving, the booklet offers inspiring stories, practical ideas for family prayer, easy-to-do activities, and suggestions for conversations. Building on the popularity of Bringing Lent Home with St. John Paul II, Bringing Lent Home with Mother Teresa and Bringing Lent Home with St. Therese of Lisieux, this edition provides the same practical elements: a quotation from Pope Francis, a story about his life, and practical suggestions for living the threefold call of Lent-prayer, fasting, and almsgiving. Parents can enhance their own daily prayer by using the booklet's reflections for parents. On Sundays, families focus on the themes assigned to that Sunday of Lent, and Cooper O'Boyle suggests a project for the week ahead. The booklet can be used with any of the three Catholic lectionary cycles.
You can order them here. Buy a set for yourself and one for a friend!