I think we can all need "bite-sized gems" in our daily lives. But this is true, especially for busy mothers whose lives are really not their own. They are on call 24/7 to care for their family. They can use a nourishing morsel of inspiration to kick-start their day!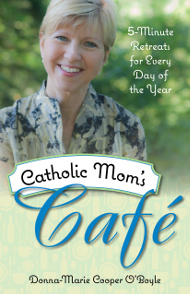 A kind reader recently posted a review on Amazon about my book Catholic Mom's Cafe: 5-Minute Retreats For Every Day of the Year.
She said:
Short and Sweet…and Life-Changing! Absolutely genius way of maximizing the little time that moms have into a daily ritual of quality time with the Lord that is power-packed. Thank you, Donna-Marie, for helping to make prayer time easier for mothers everywhere!
As a busy homeschooling mother of five (and expecting again), I have often lamented not having a structure to my prayer time. Structure equals efficiency, and efficiency equals doable. Prayer is absolutely necessary to feed my soul, but I have to fit it in before the next baby's cry or cup of milk is spilled.

Donna-Marie Cooper O'Boyle's Catholic Mom's Café: 5-Minute Retreats For Every Day Of The Year offered me the perfect solution. A short five minute structure to my prayer time which inspired and charged me for the day. She neatly organizes each day's retreat into ponder, offer, pray and savor. Bite-sized gems that I can actually remember and use as I go about my hectic day. My daily "go-to" along with coffee 🙂
God bless you! 5 stars!!!
Here is the link to see my book on Amazon.
Speaking of mothering, I was recently looking over my book A Catholic Woman's Book of Prayers because a publishing company just requested permission to translate my book into Portuguese. This book is actually for women of every walk of life, not only for mothers.
I'll share one of the reflections that popped out at me when looking through my book:
My Distinct Mission
Within all of the innumerable things I do as a woman,
right down at the core of it all
lies the call to my distinct mission from God.
I pray that I may fulfill it lovingly throughout each day
while praying actively, through my hands, in service,
and contemplatively, on my knees,
to please God
and help my neighbor find his way to heaven.
***
What "bite-sized morsel" are you hanging onto today? Please feel free to share in the comment box!
Stay tuned for exciting news! I'll be sharing soon about upcoming projects which includes a new book for families!
May God bless you and keep you!