Remembering Mother…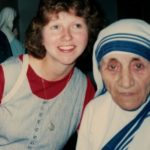 Distinct details of meeting Blessed Teresa of Calcutta the first time remain etched in my memory. Her height, or lack thereof, especially struck me. Being short in stature and hunched over, she appeared a bit frail. But I was totally convinced that this "little" woman was a passionate powerhouse of faith, hope and love! I knew that along with God's grace, she was responsible for incredible transformations in the lives of the "poorest of the poor," all over the world.
My heart soared one summer morning, when straight after a Mass I attended with the Missionaries of Charity sisters, Mother Teresa approached me. I was immediately filled with an incredible peace. The tireless servant of the poor took time from her duties to speak to me about my children.
She asked if my daughter Jessica (who was secure in my arms so she wouldn't get into trouble!) was the "baby who was singing at Mass?" (No doubt, her polite way of saying she was aware of my continuous tip-toeing in and out of Mass with my restless little one!) Then, she told me, "Your children are very fortunate to have a family." I felt compelled to tell her that I was very fortunate to be their mother. At that time I had three children on earth and three in heaven.
Mother Teresa was accustomed to rescuing babies and children from the dust bins in Calcutta, India, disposed of by their dying parents. She took them in, gave them love and care, and placed them within families yearning for children.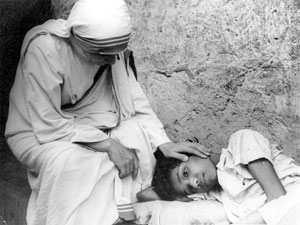 Blessed Teresa never mothered a child biologically, but she in so many ways spiritually mothered countless people all around the globe. She indeed became a mother to me. Mother Teresa begged for all unwanted babies whose mothers contemplated abortion and said she'd care for them herself. She opened our eyes and hearts to the needy around us whom we should "mother."
[See the entire article here]