Do you know what this is?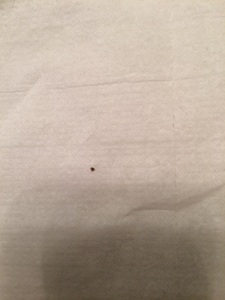 It is a tiny tick (on a piece of tissue) that was taken off of me.
Here below is an enlarged photo of a poppy seed-sized tick that was attached to my leg the other day. To the naked eye, this tick looked like a very tiny black dot on my leg, much like the photo above. But I knew better. I knew I had better check it out further. I'll get to why this discovery was very disconcerting in a minute.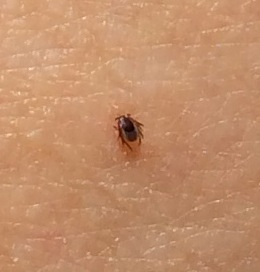 A few days before I saw that tick on my leg, I felt a pain on my back and tried to take a picture of it with my cell phone so I could enlarge it and see what it was. This photo is blurry, but it confirmed to me that there could be a tick attached to my back.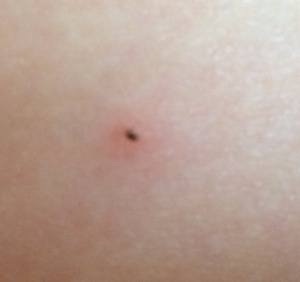 I was not at all happy by this discovery and asked my husband to quickly get it off of me with a tweezers. Since I am in the midst of being treated for Lyme disease as well as Babisia and Q Fever, (all of which are very bad and wreak havoc on our bodies) I was upset that I was now facing more trouble. I knew I needed to turn it right over to God and ask Him to help me.
I have been dealing with Lyme disease and co-infections for some time now (over twenty years). It has been quite debilitating at times. I've had Lyme disease at least four times. Those cases are documented with blood work. In addition, I have had co-infections which are just as bad or even worse. Just recently I needed to be in bed for about two weeks with high fevers, chills, and intense pain throughout my body and head. You can see my earlier posts about my situation here, here, and here.
So, you can imagine how upsetting it was to discover that I was bit with not one, but two new ticks!
Right after the first new tick bite I called my doctor to see what I needed to do. What if the new tick was carrying new infections? Should I get the tick tested somewhere? Do I need more medication? These and other questions raced through my brain. My doctor suggested trying to get the ticks tested. I had put the ticks each in plastic zip lock bags along with a wet cotton ball. The health department sometimes will test ticks.
While on the phone, my doctor reported to me the results of my latest blood work (that he drew just before putting me on my medications). He told me that I also had another infection in addition to the ones we were treating. It is called Anaplasma. I asked him what I needed to do for it. He told me that the three strong medicines that I am already taking will hopefully take care of it. I did a little research of Anaplasma and learned that one of the complications is to the bloodstream. One can get sepsis from this co-infection. I pray that my medicine is attacking the Anaplasma.
I have about another month of the three very strong medications to take (plus probiotics) and then the doctor and I will determine what is next. I am getting better, but am not 100% yet. It will take some time. But, I am very thankful for the progress. Thank you very much for your continued prayers.
Lyme Disease 101
As a very small "Lyme disease 101" lesson, I will mention that Lyme disease is caused by a particular kind of bacterium–a spirochete. Spirochetes are some of the most ancient bacteria on Earth. They have existed for billions of years longer than humans. They are very intelligent too. There are eight different kinds of these very active coiled worm-like bacteria. I'm sorry to say that their coiled form is what gets them inserted into their host's (infected humans) organs and tissues. They simply corkscrew their way in and wreak their havoc! To date, over 200 different species in these eight genera have been identified thus far.
One way to describe the Lyme spirochetes is that they are opportunistic parasitic organisms which are highly intelligent and have extensive experience in promulgating themselves in the wild. They infect a variety of biting insects and are injected into new hosts in this way. Both the ticks and the hosts are essential in the life cycle of the spirochete. Humans, along with birds are now one of the major life forms that spreads the disease out of endemic areas.
I can tell you so much more about this intelligent bacteria that infects unsuspecting humans. But, I'll just leave you with one more fact about them that really bothers me. The spirochetes are so smart that to preserve their lives, they can actually change their form to avoid the antibiotics, as well as can hide inside of cells where the antibiotics can't reach them.
I'd like you to also be aware that many of the standard blood tests for Lyme disease and their co-infections are not always accurate. Trust your gut. If you are experiencing the symptoms (head ache, fever, joint pain, muscle pain, fatigue and more), insist on getting re-checked since sometimes it takes more than one blood testing to discover the positive result. I highly recommend that you see a Lyme disease doctor knowledgable in the disease. He or she will help you get the correct blood testing. Even though I live in Connecticut where Lyme disease was discovered, most of the doctors in my area do not know anything about Lyme disease! Or what they know is very limited or inaccurate.
We all need to be our own best advocates for our health. Lyme disease is a very tricky disease. If one has it and one does not take the proper antibiotics, one can become seriously ill or even die. Please take care of yourselves.
God bless!
Donna-Marie