"What will happen today?" My husband asked me that question this morning before we even got out of bed. It has been a very eventful week (which I'll get into a bit later on). We can say it was even an eventful Advent season. There was the recent passing of my very dear friend and spiritual director Fr. Andrew Apostoli, CFR which was on December 13th. Prior to that, we had been waiting. Waiting in this Advent season which is meant to prepare our hearts–waiting for the Christ Child, but also waiting for the Second Coming of Christ which is also our focus during these very holy days.
Much of our personal waiting this Advent season has been in regard to dear Fr. Andrew whose health had suddenly taken a drastic decline–as he seemed to be rushing towards death in a certain sense. But, no one really knew when it would occur. Was it to be on the Feast of the Immaculate Conception which was coming up? No, that day came and went. Father still struggled physically. But, no one knew when he would leave us. We tended to think it would be on a feast day. Would it be the following day which was the anniversary of Servant of God Archbishop Fulton Sheen's death–someone who was very special to Fr. Andrew? No, Father would still hang in the balance–the Friars surrounding him with prayer and the sacraments. Waiting…loving, comforting…praying…
I am deeply grateful that I was able to visit with Fr. Andrew a couple of times in his last days, as well as to talk to him on the phone. We had beautiful conversations talking about our Faith, various saints, Our Lady of Fatima, and redemptive suffering. We had a blessed time praying together in the chapel of his Friary too.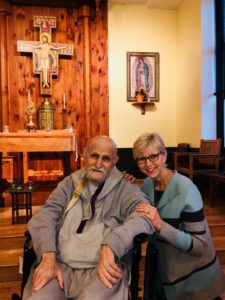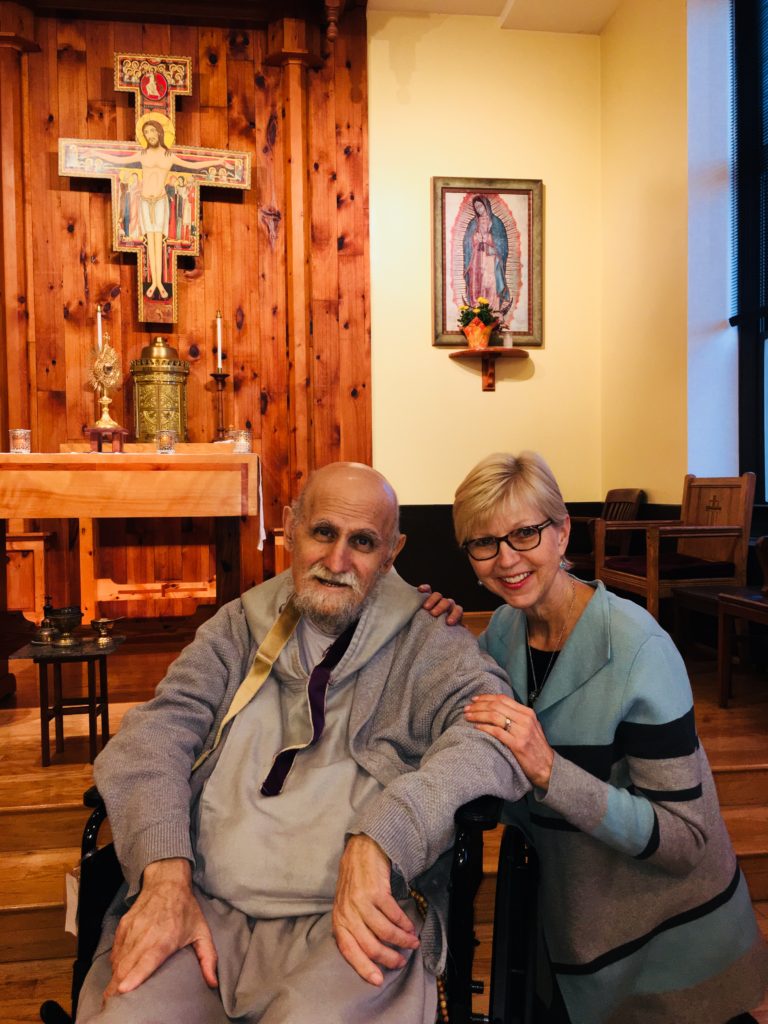 I'll never forget our last conversations which are etched now upon my heart. Especially, when I was about to leave the Friary and Fr. Andrew asked the Friar attending to him to please shut the door so we could have more time for a conversation there at the door. And with an extra kiss and hug, we bid our good bye and dear Father thanked me so sweetly for coming to visit and for the words I shared with him. There would be one more visit about a week and a half later. It was short but powerful. Father let me know that he was offering and accepting every ounce of tribulation, pain, and suffering.
We all wondered about Fr. Andrew's passing. Would it be on the feast of Our Lady of Guadalupe, we wondered? No. Father lived through the entire day and night dedicated to the Patroness of his Religious Order. He passed on to his Eternal Reward the following morning. It was on the 13th of the month, a number very significant to Our Lady of Fatima. It was also the feast of Saint Lucy, who was the patron saint of Lucia, one of the Fatima visionaries. I shed some tears after receiving the phone call from one of the Friars shortly after his death, even though I knew it would be coming. He was very dear to me. I had been praying for a miracle, but was also fully trusting the Divine Physician who knew what HE was doing. I had no doubt.
I was told that the Friars prayed many prayers for the dying around dear Fr. Andrew's bedside. During the Litany of the Saints, as Saint Andrew was invoked, our saintly Fr. Andrew breathed his last breath. Wow.
This past week
This past week was Fr. Andrew's Wake and Funeral. It was a very bittersweet time. No one wanted to see Father go so soon, we would rather have his comforting presence a while longer. But we do have to trust Our Lord. It was good to see the many folks who came out to be there for Fr. Andrew and his Friars and Sisters.
It wasn't easy seeing dear Fr. Andrew in a casket though, but I felt an abiding peace in my heart because I had no doubt where Fr. Andrew already was. He was in Heaven. Only his body lay there in the casket. Still, the utter certainty that the former comforting spiritual discussions and camaraderie would no longer exist–at least not in the way it had in the past was sad indeed. yet, to be completely honest, I certainly do look forward to staying very much "in touch" with dear Fr. Andrew through my prayers. Comfort fills my heart and I truly believe that Our Lady Herself came to get Fr. Andrew on the morning of December 13th.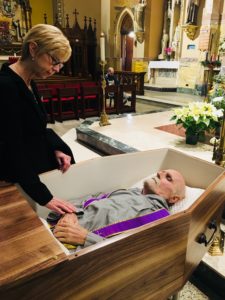 The eulogies were extremely heartfelt and poignant. The funeral Mass was so grace-filled.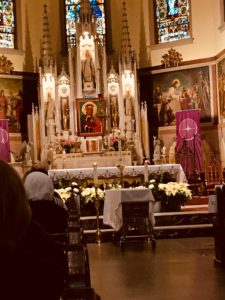 One tough part for me was at the closing of the casket before the funeral began when the choir began to sing "Sweet Sacrament." I have vivid memories of Fr. Andrew carrying the Blessed Sacrament in the monstrance into the chapel at every Catholic Marketing Network conference (CMN) and then singing that precious song. I can still hear it now. And, another sorrowful moment was as Fr. Andrew's casket was wheeled down the aisle to exit the church, A pang of sorrow entered my heart when his casket passed by me.
As I felt that sorrow pierce me and cause a few tears to be shed, a beautiful CFR Sister that I knew passed by at that time and winked at me. I smiled up at her and knew she understood my pain. I think that we carried one another and lifted each other up these past couple of months and throughout the past week, especially. Fr. Andrew was so beloved to countless people all around the world. The wonders of technology and specifically through the EWTN television network that transported Fr. Andrew into people's living rooms far and wide helped so many to get to know the humble saint. He will be sorely missed. However, I hope and pray that people all over will pray for his soul (since that is what we should do even if we feel certain that someone has gone to Heaven) and I hope that they not hesitate to ask Fr. Andrew for his intercession.
On another note, I noticed that you can request funeral cards here. A beautiful photo gallery is here.
An article in the National Catholic Register in which I am quoted. One thing I noted was that, "Father Andrew was such a bright beacon of light to our darkened world," Aleteia also quotes me here.
On our way home from Fr. Andrew's funeral, my husband and I played the Litany of the Saints song. We also played "Sweet Sacrament" and "Lift high the Cross" which was also sung at the funeral. We experienced a very holy time during our journey back home.
Cheesecake?!
I'll also share a sweet and kind of funny story with you. When I filmed many Sunday Night Prime shows with Fr. Andrew, my husband and I would take him out to a local diner afterwards. Father often ordered a piece of cheesecake and a cup of coffee. In a booth there, over a small meal or dessert we would discuss matters of Faith and our culture today. Fr. Andrew was concerned about the state of our culture and the fact that the faithful weren't heeding Our Lady of Fatima's message. Conversations with Fr. Andrew were always uplifting even when speaking about unsettling world events. Fr. Andrew's encouraging words were always like a healing balm. Even through the most difficult challenges, Father brought peace to your soul.
But, back to our meals together at the diner. I'll let you in on a little secret. One time early on before Father was very sick, when he ordered the cheesecake I asked gently, "Don't you have Diabetes, Father?"
He answered with a smile, "I take pills for that."
Don't worry. He did take care of himself and was allowed a treat every once in a while.
Well, my husband suggested that we stop at the diner after the funeral in honor of Fr. Andrew. Anyway, we did need to eat lunch and it would be a long ride home. So, we stopped and ordered a light lunch and in honor of Fr. Andrew I ordered a slice of cheesecake to go. I'm giving you the whole blow-by-blow here. 🙂 Before we left the diner, the cashier handed my husband a bag. I came out of the Ladies room, my husband handed me the bag and said it was my dessert that I had ordered. I said that it couldn't be because the waitress had just handed it to me in another bag a little bit earlier. I went back to the cashier and told her that someone must have given my husband someone else's "doggie bag" (not knowing what was really in the bag), by mistake, but I wanted to give it back.
"Oh no!" the cashier told me. That's for you, a sweet treat from us for a Merry Christmas!"
I was very surprised. I thanked her and off we went. We got outside and I took a look in the bag. It was a whole little home made cheesecake! What a sweet gift to receive on that special day! Thank you, Fr. Andrew!
Joy to follow sorrow
After attending the services for Fr. Andrew, my husband and I were able to go out-of-state the following day to visit my daughter and her two sons, one being my very new grandson! Our son-in-law was at work during the time that we could visit. So, we missed him but will see him soon. What an absolute joy it was to see my daughter and grandsons–to hug, and hold them! It was such a special highlight of our week. We were deeply thankful to have that time with them a few days before Christmas and directly after bidding farewell to dear Fr. Andrew.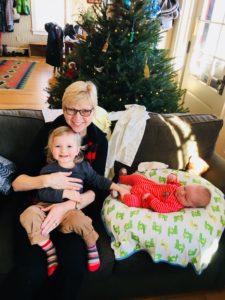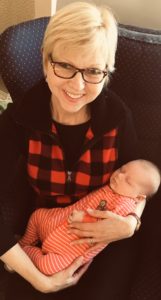 During the Christmas shopping rush
I have no doubt that miracles occur in human hearts on a regular basis. We need to be attentive to the needs around us, even, and most especially in such a busy hustle and bustle season. Advent is supposed to be a time to ponder, pray, and grow in holiness, but the advertising frenzy prods us to be running around looking for deals and gadgets. Holy Mother Church encourages us to pause and pray while the world points us away from those holy things. I find that even in moments of crazy chaos, we can pray and ponder and even be of service to someone who needs us.
I am reminded of a few encounters during this busy season. One time I was at a local department store and in the check out line. The cashier told me to go to the next cashier who had just finished taking care of a customer. I followed her directions and a couple behind me started to rant and rave. They yelled at me because they thought I was cutting in line. It was actually quite a scene. I think the onlookers were amazed at the fuss. I told the couple that they could go ahead of me if that would make them happy. They did go ahead of me, but still seemed angry. I prayed for them. I'm sure that they needed prayers. They were so stressed out.
At another store, when out Christmas shopping, I bumped into a friend from church. She was going through a very rough time with her family and asked for prayers and a listening ear. I promised my prayers and after about a half an hour or so, we parted with big hugs. Later that night, I prayed much for her. The following day, I saw her again at another location. She said kiddingly, "We have to stop meeting like this!" I told her I had prayed for her in the night when I was unable to sleep and that I would continue to pray for her situation. She was very thankful, knowing I was praying for her seemed to bring comfort to her soul.
One dear friend who has been through a lot of strife in the past year told me she couldn't find her Nativity set. It would bring much joy to her to be able to set it up, even just a few days before Jesus' birthday. She searched all around and prayed to Saint Anthony. I prayed as well. If only she could find that simple symbol of God's great love for mankind. It would brighten her holidays. I was so happy to receive her email letting me know that she finally found her Nativity set at the very bottom of a pile of boxes from her move. Little miracles are to be found all around.
Recently, out at the grocery store, I enjoyed a surprise encounter with a friend. It happened when just after I had finished shopping, I remembered an item I needed, and so before checking out, I headed to the Deli department on the other side of the store. A woman I know from a local diner gently grabbed onto my arm.
"I was hoping I would see you!" She was visibly excited.
It turns out that she had had brain surgery and was now hopefully fully recovered and back to work part time. She was telling me all about it and did mention that she had an upcoming appointment to go over further test results. She felt that God had put some very kind Angels in her path and told me about them too. As well, she thanked me for being in her life. I gave this woman a blessed Miraculous Medal that I had in my pocket that day. It was one that dear Fr. Andrew had blessed for me. She graciously accepted it and was vey grateful to have it. We parted with big hugs. I was so happy that God had arranged that we saw one another, especially because this woman had hoped she would see me. I never did pick up that Deli item! It certainly doesn't matter!
Out of the mouths of babes!
Recently after Mass I was carrying the precious vessels to the sacristy and a parishioner greeted me and asked about Fr. Andrew. I gave her the news of his passing. Two young sisters (8 and 10 years old) that I know were nearby. I had one as a student in our faith formation program. The youngest asked ne a question.
"I heard you mention that someone died. Is that the person you asked us to pray for?"
I wanted to tell them gently. I didn't want them to be upset right before Christmas. But they  needed to hear the truth. "Yes." I told both of them. "But, don't worry," I said. "He went to heaven. It was time for him to pass on to his eternal reward. Thank you for praying for him!"
The youngest quickly spoke up."Life is a war," she stated calmly.
I was surprised at her statement, but very happy to know that she seemed to understood already the spiritual battle of life.
She elaborated. "Yes. we have to fight hard to live a good life and get to heaven."
Her older sister chimed in. "I look at life as a test. And, I want to get an A plus!" She smiled. I was so proud of the girls!
"What will happen today?"
Remember I told you what my husband asked me this morning? "What will happen today?" He asked. He asked that question because we had had an eventful week, but mostly, I'm sure because of the Bobcat and the emergency situations with our neighbors which I'll tell you about now. I told you part of the eventful week above–about Fr. Andrew's Wake and funeral. That was followed by the trip out-of-state to see my daughter and grandchildren. Then, just yesterday an ambulance showed up at my neighbor's home. I left what I was doing to rush over to see if I can help my elderly neighbors. In the past I brought my neighbor to the hospital when she was having a stroke as well as have assisted in some way when an ambulance would arrive to their home due to an emergency. Turned out my poor neighbor was having another stroke yesterday morning, but was also very disoriented. I asked her husband if I could go in the house to try and comfort her. I'll call her "Bethany."
"She probably won't recognize you," he told me, very matter-of fact.
I ventured in and went over to her amid the chaos of people speaking very loudly. There were paramedics, a caregiver, a nurse–everyone milling around in a flurry, checking papers, asking questions. I squeezed in through the people and approached Bethany, speaking softly to her. She greeted me with excitement, and did recognize me. I sat down right next to her on the couch. I was so happy that she knew who I was even while going through a stroke with advanced dementia. Little miracles are all around…A few minutes later and we were all helping to get Bethany on to the stretcher and the technicians then took her into the ambulance to get checked out at the hospital. I kissed her good bye before being whisked away and promised my prayers.
Later that day, I had to scare off a wild Bobcat that was about to attack my cat! Wow, I thought. Never a dull moment. This was right in my front yard! I was extremely thankful that I opened the front door when I did so I could see what was going on and get my cat in to safety. He is not going to be going outside any time soon!
Last night, actually it was two in the morning when the phone rang. It was Bethany's husband asking if I could possibly go over to help him convince his wife to go inside the house. It was freezing cold outside and there was a sheet of ice over everything.  My elderly neighbor had just driven his wife home from the hospital and Bethany didn't believe that it was her house. She absolutely flat out refused to go in. My neighbor didn't know what he could do so he called me. I was happy that he did so, because I wanted to help. I told him I would dress quickly and go over. Before leaving my bedroom, I quickly grabbed a blessed Rosary from my bedside. I would offer it to her as a comfort (even though I knew that she does not practice any religion).
My husband reached for the flashlight lantern and he accompanied me out into the cold dark night and over to our neighbor's home. We had to walk carefully because the ground was slick. I approached the car where my neighbor sat. She was very disoriented, but thankfully she recognized me and after some time, allowed me to assist her into her house and into her warm bed. We went carefully through each doorway, holding her up so she wouldn't fall. Bethany was very happy to receive my Rosary beads and held it tightly in her hand as she lie in bed, finally beginning to warm up under the blankets.
Today, I stopped by their home  to check on my elderly neighbors and brought them a Christmas dessert. They were doing well and very appreciative for our help in the night.
Just before stopping to see them, on the way home from grocery shopping for Christmas dinner I asked my husband to pull up to a little diner in town so that I could give my friend an early Christmas hug. It was pouring rain, but I didn't mind getting a little wet to surprise my friend. I knew that she worked on Saturdays. She was quite busy with a diner full of patrons, but our sweet Christmas hug was special indeed.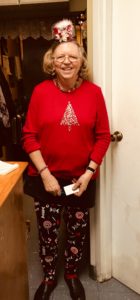 She paused a quick second so I could snap her photo. She had survived her intensive brain surgery and I was grateful too. Little, and yes, big miracles are happening all around us!
"What will happen today?" my husband asked. We never know, on any given day, but we offer our days–each one–over to the Lord, first thing in the morning and trust Him with our lives. We pray that we can be a light to others in a darkened world. We pray to bring others to Him!
Tomorrow is the last Sunday of Advent. It is also Christmas Eve. Where has the Advent journey taken us thus far? What will tomorrow bring? Let's be sure to bring Christ's light and love to so many wounded in our world today.
By the way, the Litany of the Saints and "Sweet Sacrament" have been continually playing in my head. God bless you! I am praying for you. Please pray for me.
Merry (almost) Christmas!