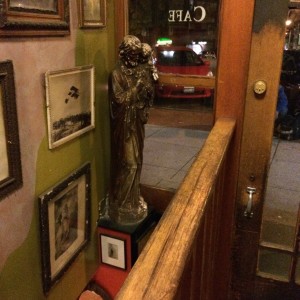 I was so happy to come upon this image of St. Joseph in a unlikely location recently. It is prominently stationed at the front entrance-way of a secular cafe in downtown Northampton, Ma. I had visited this cafe in years past and had been delighted to see St. Joseph standing there, as well as other Catholic art hanging all over the walls downstairs in the restaurant part.
But this time, passing through Northampton was a quick stop to go to Mass and then the use of a rest room before heading back to Connecticut. I had forgotten about this place. As cafe after cafe was closing down for the night that Sunday, I asked a waitress where I could find a rest room. She suggested this place. My husband and I looked for a few minutes and finally found it tucked away at the end of a row of shops. Lo and behold, there was St. Joseph too! He is a saint I greatly admire and turn to often–my hero, actually. I instantly recalled my earlier visit there and how happy I was to come upon him and the other images. When exiting, I snapped a quick photo while heading back up the stairs.
If you look to the right in this photo you might be able to glimpse an image of a man who was sitting outside on the sidewalk. While I exited the building, he said "hello" to me and I said "hello" and immediately remembered that I had a couple of blessed medals in my right pocket. I reached into my pocket to take out a blessed St. Benedict medal (with a full exorcism blessing on it). I gave it to him and explained that it was a powerfully blessed medal. He was very thankful to receive it and drew it in close to his heart. I then pulled out a Blessed Miraculous Medal and gave it to him too after touching it to the one that I wear that Mother Teresa gave me. I pointed to the Blessed Mother on the medal and told him that Mother Mary would take care of him. I asked his name and told him mine. I told Andrew I'd pray for him and asked him to pray for me. He said he was so touched that he was crying. I told him that God loves him. He gently grabbed up my hand and kissed it. He then told me that he's been living on the street for ten years and is concerned because winter is coming.
Please pray for Andrew, who is someone Mother Teresa would call "Jesus in the distressing disguise of the poorest of the poor." I am praying for Andrew and hope I might see him again when passing through that area. I'll be sure to get him a hot meal and offer him some warm clothes.
There are many people out there who are living in dire circumstances and need our prayers and any help we can offer. We are all called to take care of God's poor.