Personal Testimonials (posted with permission)
April 4, 2016
"I must tell you how much your books and talks have affected my life.  I am not even sure how I discovered you. I think it was an Amazon search years ago for Catholic motherhood.  The first book that I've read by you was Embracing Motherhood, which made me feel elevated in my status as a mom.  You lifted my spirits, pointing out how motherhood is a "sublime" calling. For years, I just wanted my mom and mother-in-law to come beside me and lift me up and praise the work I was doing, but the reality is that they grew-up in a very feminist generation and are blind to the validity of this work.  So, your writings filled that need for validation for me.
Next, I started listening to Everyday Blessings For Catholic Moms on my Kindle as I went around cooking, cleaning and doing laundry. The kids always knew when I was folding clothes bc the theme music would blare out. Then, I read The Domestic Church, and one of my favorite passages in that book (which I double highlighted) was when you said that "Blessed (soon to be saint Teresa's advice was to not be ashamed of humble work which is a huge part of mothering: an extraordinary vocation in which little saints are raised inside the hidden confines of the homelife amid the nitty-gritty, humble work of the mother in the home."  That one statement helps to bring me back to a place of peace when I am tempted to grumble and get discouraged with the nitty-gritty of it all.
I cannot express to you what a miracle it is that a girl like me (raised in a non-church going home with a mom who thinks I have lost my mind to be open to this many children…and consequently, she refuses to offer any support or help) is on the path that I am on. I owe it to the great influences of women like you!  You have come into my home and spoken words of faith and encouragement. Your words have given me strength when I've been tempted to agree with my naysayers that I am nuts for doing this.  Your work renews my sense of purpose and inspires me to go on when every bone in my exhausted body says, 'Just quit; put them in public school; and, put your feet up with a latte.' 🙂 Please don't ever stop writing!!!!!  Keep the nourishment coming!  Your books are my spiritual direction. They are my friends…"~anonymous
"…You speak about the coincidence" of meeting Mother Teresa and how that meeting has made such a difference in your life.  I also thank our Lord for the "coincidence" of meeting you in that hospital waiting room.  You were a gift sent from God to me and how my life is blessed, growing and changing because of our relationship and what you share.  Thank you so much, Lord Jesus, and thank you Donna-Marie." ~JoAn in Connecticut
"I truly believe the difference you make is nothing short of legendary. Telling you that you are appreciated does not do your service justice…YOU ARE THE BEST!!! Your shows on EWTN and the books you have written are absolutely amazing. I do have seven (7) of your books already and by the grace of God I have just pre-ordered your upcoming memoir "The Kiss of Jesus." I am so deeply thankful and grateful to you for bringing so much inspiration into my life and for touching the lives of so many people."~Monica in Australia
"…Thank you for taking the time to read this and for writing me back.. I feel a wave of calmness coming over me just writing this to you. I feel closer to God and to the Mother Mary after reading your book. I'm going to order a few others and keep on reading about the catholic faith and about our mother and the saints. Your writing has inspired me to get on with my life and to get out of bed and live my life. Thank you for that. I feel incredibly blessed to have read your encouraging words…"~anonymous
"Donna-Marie has a way of speaking directly to your heart by planting seeds of faith that will change you forever. In October 2014, Donna-Marie came to speak to our parent group at Our Lady of Fatima in Lafayette, LA. I consider it a blessing to have been fortunate enough to hear her speak.  Her stories warmed my heart, renewed my faith in humanity and inspired me to go deeper and grow stronger in my Catholic faith.  There were times, as an audience member, where my imagination transported me as though I were living the story with her – I laughed, I cried and I felt her true desire to share her calling with others. Her peaceful demeanor and genuine sincerity left me wanting to hear more, and those sentiments were echoed by our entire group.  After her presentation, our group lined up to purchase her books to read more of her wonderful stories. For me, personally, "Catholic Mom's Café" has been the perfect book to start my busy days."~Elizabeth Bordelon, MBA, Fatima Families Chair, Our Lady of Fatima School Parent Club, Lafayette, LA
January 25, 2015
I have known Donna-Marie for many years.  We are from the same town of Ridgefield, CT, but we never knew each other growing up in that beautiful New England town.  It was years later, when I began to write articles on the Internet that Donna-Marie and I got to know each other as two people from Ridgefield that are trying to do something to spread the Catholic Faith.
Donna-Marie has visited my previous parish a number of times.  She has a keen way of helping people, especially Catholic women, live family life and the practical details of our Catholic Faith within the daily circumstances of each day.
Donna's writing and talks are clear, practical and inviting. Her clear teaching is essential for the challenging times that we live in.  I highly recommend her books and talks.
~Fr. James Farfaglia, pastor of Our Lady of Guadalupe parish, Corpus Christi, TX "My Sunday Homily"
"If you're looking for an inspiring speaker, no one is better qualified than Donna-Marie Cooper-O'Boyle.  She's a TV host on EWTN, a best-selling author, blogger, PLUS a personal friend of two people who are to be Saints (Mother Teresa and Fr. John Hardon, S.J.) AND she is a terrific speaker! Her talk at the Catholic Leadership Conference 2014 was both inspirational and touching.  I highly recommend her for any conference or event."~Gail Buckley, President Catholic Leadership Conference & Catholic Scripture Study International
"Donna-Marie Cooper O'Boyle is an inspiring writer, speaker, and media personality. Her mother's heart shines through in all her work, by encouraging others and pointing them to Christ in practical ways. I have been deeply affected by Donna-Marie's writings, and was privileged to hear her talk at the Catholic Leadership Conference. Wow, what a powerful presentation!" ~Kevin Lowry, Chief Operating Officer for The Coming Home Network International, board member of Our Sunday Visitor and the Columbus, Ohio chapter of Legatus.
Donna-Marie is best known as an EWTN host and author of wonderful stories about the people who have touched her life. Her books are filled with stories and prayers that encourage readers to pray more.
She is also a captivating and inspirational speaker who recently gave inspiring presentations on Mother Theresa and the Miraculous Medal to the ladies of Our Lady's Guild at our parish. Her calm and insightful style made us more aware of how close we can be to Christ in this life and how we can lead a life of holiness.   The response from Guild members was so overwhelming that we immediately invited her back for another presentation next year.~Margaret Doran, President of Our Lady's Guild, St. Aloysius Parish, New Canaan, CT
"Donna-Marie Cooper O'Boyle is a gifted speaker and storyteller.  She has a wonderful ability to pull you into her story and make you feel as though you personally know and are involved with her characters. During a visit to my parish, she spoke of her friendship with Mother Teresa.  She shared many wonderful stories as she taught us how to Love like Mother Teresa.  Everyone in attendance was transfixed by her message.  She holds a special place in our hearts and is always welcome to return."~Debra Gray, Coordinator of Youth Ministry, Holy Trinity, San Antonio, TX
December 2, 2014
The book you wrote, "Grace Café", came into my life at just the right time, when I was in need of a guide to embracing motherhood in a more prayerful way, bringing grace to my daily duties as a homemaker. It helped me get through my sadness at my oldest going off to college overseas, providing understanding and wisdom that I so much needed. With the many references from Blessed Mother Teresa of Calcutta, Father John Hardon S. J., and Pope Saint John Paul II, you gave me so much to grasp onto. Their insight, combined with yours, truly made a profound effect on my heart, and in my life. I shared what you gave us in this book, and in your book "Rooted in Love", with anyone I would meet, and purchased these books many times, sometimes 5 at a time, so I could pass out at my Bible study or at events etc. for many ladies. Again, it was life changing. You are an incredible soul. Thank you for using your gifts to help others. Thank you again for the blessing of your inspirations and insights, and for the Miraculous Medals you gave to me that night I met you when you spoke at Holy Trinity in San Antonio, Texas. The wisdom of God and his grace shines through you. You are my favorite author. May God continue to bless you.
Your sister in Christ,
Diane Bridon
July 21, 2014
Blessings to EWTN and Donna- Marie Cooper O'Boyle. I just wanted to let you know how grateful I am to EWTN and the shows that are offered to us, the viewers. There is one show in particular that I wanted to tell you about. One evening I was rather upset over a situation that I had learned about involving the life style of some one I love very much. I was watching Women of Grace and that evening on the show Johnnette was speaking with Donna- Marie Cooper O'Boyle. It was a wonderful show through out the week, but it was the last show that touched my heart deeply. The Ladies were speaking about The Blessed Mother and Motherhood. As I listened it was as if Donna-Marie spoke to my heart. There was a connection that I felt, because she told the story of how she passed out Miraculous Medals. That is exactly what my family and I do for others, she then spoke of a young mother she met in an airport and how this young mom was struggling and felt abandon by her mother and her step mother. I knew what that young lady was speaking of because this young person that I love dearly is being abandoned by his mother. I thought maybe Donna- Marie could help me with resources to help this young person. Donna -Marie did help me. She has gone above and beyond in her help and in her prayers. I have since purchased most of Donna- Marie Cooper O'Boyle's books and read them cover to cover. When ever there is an article she has written for the National Catholic Register I read that as well. I've also been informed that Donna- Marie will be airing a program on EWTN. I won't miss it and I will be sure to tell the young moms in our area to watch the program. Our young moms today, need to hear that the vocation of Motherhood is very special. In this day and time when the culture of today is destroying marriages and family, I believe Donna-Marie will be able to touch their hearts. Thank you to EWTN for airing these beautiful programs. They are making a difference in peoples lives. I am so grateful for the help that Donna- Marie has given to me. I thank EWTN for being that beacon of light for us!~Debbie Burkhart
May 26, 2014
We're all called to be saints but I think Donna-Marie might be destined to become a Saint with a capital "S". She enjoyed a decade-long friendship with Blessed Mother Teresa plus Fr. John Hardon, S.J. was her Spiritual Director and you know what they say, "birds of a feather flock together"! Donna-Marie deserves her own "halo" though, not through her association with such noble people, but because all the wonderful work she has done in God's Vineyard. She's also a paradox – delicate, soft- spoken, humble Christian wife and mother but a one-woman dynamo whom even the woman in Proverbs 11 would admire and I feel very blessed to call her my friend and sister in Christ.
~Gail Buckley, LHS
Founder & President, Catholic Scripture Study International
May 6, 2014
Donna-Marie Cooper O'Boyle is an inspiring writer, speaker, and media personality. Her mother's heart shines through in all her work, by encouraging others and pointing them to Christ in practical ways. I have been deeply affected by Donna-Marie's writings, and was privileged to hear her talk at the Catholic Leadership Conference. Wow, what a powerful presentation!
~Kevin Lowry serves as Chief Operating Officer for The Coming Home Network International, and is on the board of Our Sunday Visitor and the Columbus chapter of Legatus. Kevin is the author of Faith at Work: Finding Purpose Beyond the Paycheck, and is a frequent speaker for Catholic groups. Kevin and his wife Kathi live in Columbus Ohio and have eight children.
June 18, 2013
Hello Donna-Marie!
My name is Corey Grace and I recently met you in Kansas.:) My husband, Ryan, and I were able to come to listen to your talk at Prince of Peace church in Olathe. I just wanted to thank-you for coming and for sharing your wisdom and love of our Lord. My husband and I both left feeling inspired, closer to God and to each other. I am a stay-at-home mom of 5 children. Noah-9, Ava-7, Hannah-5, Eleanor-3, and Henry-1. Some days I forget what I gift I have been given by being chosen to be their mother. You helped me remember that. Thank-you.
April 4, 2012
I wanted to share with you about last night's meeting. First of all, I woke up at 2 AM yesterday morning and when I opened my eyes, the first thing i saw was your book, "Mother Teresa and Me," on my night stand. I could not sleep. I kept staring at the book and felt that I needed to read it. Well, I got up and opened the book towards the end and read. What I read early morning, I re-read to the team last night and WOW it impacted just about everyone!! It was amazing! Thank you for what you do. You touch so many women's hearts through your writing I will continue to pray for you and your ministry.
Brenda Olivares, Corpus Christi, Texas
_____________________________________________________
July, 2011
"…I must tell you that I have read it [Mother Teresa and Me: Ten Years of Friendship] at least five times. Whenever I am feeling overwhelmed by difficulties in our local parish or diocese, I re-read it for a spiritual boost. God reward you immensely for writing it, Donna-Marie! The book has done more good than you will know in this life…Really…there are times when reading it is like a breath of fresh air."
Reader from Washington state
_____________________________________________________
January, 2011
Good morning Donna-Marie,
I wanted to thank you for such an amazing morning at St. Thomas More.  My family and I just moved to Darien at the end of October and recently joined the parish at St. Thomas More.  We feel so blessed to be part of such a family oriented and special church and pray that our Catholic faith continues to grow in us and in our two-year old daughter's heart.  I saw the clip in the church bulletin a few weeks ago and thought "why not?"  We had lived in New York City for over 12 years and found a church we loved, but never had strong fellowship.  I really have been craving prayer and time with other women from the church, and I thought this was the perfect way to get it all started.  And it was – not only was my spirit renewed and strengthened, but I also had the chance to meet some wonderful woman.
Your talk, presence, light and experiences truly blew me away.  You gave me and my table [of other women at the talk] so much inspiration and hope.  I really was in need of some quiet time for me and yesterday was the perfect way to receive it.  I am so blessed to have grown up in a strong Catholic home, my husband as well – I cannot wait to share with everyone about you and your books.  I am getting ready to place a big order from your site and cannot wait to start reading.  I admire you so much for all that you do and the mother, teacher, wife, daughter, friend and light that you are.  I was so touched by your stories and your strength.  I am turning over my days to the Lord and leaning on prayer from yesterday forward.  My morning has already started with prayers and I thank you.
Wishing you and your beautiful family the very best and may your lives continue to be filled with lots of love, happiness, blessings and spirit.
In His love,
Brooke Gies
____________________________________________________
January, 2011 – Recently, I became a mother resulting from an unplanned pregnancy. I survived the overwhelming temptation to abort this precious little being… or, shall I say, this baby survived my temptation.. For the remainder of the 8 months, I had planned on placing her for adoption, but, God had other plans. A few hours before going into the labor, the adoption plans fell through, and now, I am a VERY happy mother to a baby I named after St. Gianna Molla… prior to delivery, I was crying and scared…going to an unfamiliar hospital, with unfamiliar doctors (I had to flee to another state to protect myself from an abusive situation 7 days before my due date). Yes, God has 'other' plans, far better than I could ever have mustered up on my own… Now, it seems, my broken family is being fixed, piece by piece again… day by day…. minute by minute…
And your book, "Catholic Prayer Book for Mothers," is seeing me through…. So, Thank You & God Bless you!!!!~Georgia
____________________________________________________
January, 2011 – "Every Wednesday night, I gather with a small group of Catholic mothers, and we talk about ways to grow in holiness through our vocation as well as swap practical tips on dealing with everyday crosses. One of us shared that she finds it hard to pray a full rosary. The next morning, I opened your book, Catholic Prayer Book For Mothers to the prayer about praying the rosary one decade at a time! I emailed it to her  (as well as the rest of the group) and she said it moved her to tears. She felt that it captured her life exactly – that someone understands – and she found peace knowing that it's okay to split it [the Rosary] up.
From all of us, thank you! :)"~Jenny Sharpe
REVIEWS
"The Miraculous Medal: Stories, Prayers, and Devotions" by Donna-Marie Cooper O'Boyle. Servant Books (July 2013) 131 pp. $14.99.
September 13, 2013, issue
Author Donna-Marie Cooper O'Boyle wore a Miraculous Medal throughout her childhood, as did her siblings. Her mother, grandmother and godmother all wore their medals faithfully. As an adult, O'Boyle and her family received several Miraculous Medals from Mother Teresa. A number of years later, she gave serious thought to the Miraculous Medal and what it really means to wear one. Her new book The Miraculous Medal was written to draw readers to Our Lady of the Miraculous Medal and to rekindle a strong devotion to the medal among all Catholics and Christians.
The origin of the Miraculous Medal is explained in the beginning of book, where O'Boyle tells of the life of St. Catherine Laboure, born in 1806 in France. St. Catherine, at the age of 18, had an unforgettable dream in which an elderly priest told her "God has plans for you; do not forget it." A few years later, while visiting a hospice run by the Daughters of Charity, she discovered that the priest in her dream was the sisters' founder, St. Vincent de Paul. As a result, Catherine felt a calling to join the Daughters of Charity.
During Catherine's first year of convent life, she experienced numerous apparitions, including her first visit from the Blessed Virgin Mary, on the eve of the feast of St. Vincent de Paul, in which the Blessed Mother told Catherine that she was to be entrusted with a mission. Several months later, Catherine again was visited by the Blessed Mother. This time, Mary, with a look of compassion in her eyes, stretched her arms out wide and rays of light poured out of her fingers upon the globe under her feet. Our Lady instructed Catherine to have a medal made of her in that pose and "all who wear it will receive great graces." It took a year and a half before the first medals, called "medals of the Immaculate Conception," were produced. As the first 20,000 medals were distributed all over France and beyond, people began to call it a "Miraculous Medal."
After providing the history of St. Catherine and her Miraculous Medal, O'Boyle tells of some of the first miracles attributed to the medal, including lighting a spark in a rundown, neglected and disinterested parish and a conversion from Judaism to Catholicism. In 1834, many of the miracles were verified and published in a brochure; the first edition sold out on the first day and subsequent editions sold out quickly.
The book then describes O'Boyle's initial encounter with Mother Teresa, in which O'Boyle's family members each received a Miraculous Medal kissed by Mother Teresa. This meeting started a 10-year friendship between the two women and helped stimulate O'Boyle's renewed interest in St. Catherine's medal. O'Boyle started giving blessed Miraculous Medals to people she met whom she felt were in need of the medal.
O'Boyle experienced a variety of encounters with people to whom she gave Miraculous Medals. She dedicates a lengthy chapter in the book to some of the true stories of those who experienced the medal's miraculous transformation. O'Boyle states "Sometimes the transformations occur within someone's heart, their soul, or even their body."
The final chapter in "The Miraculous Medal" consists of a collection of prayers devoted to the Blessed Mother. Included are the Miraculous Medal Novena, the Litany of Loreto and the Litany of the Immaculate Heart of Mary.
"The Miraculous Medal" is an informative book about a sacramental that is still relevant today. The history of the Miraculous Medal and its spiritual significance make for an interesting and valuable read.
~Ann Jonas is the general book buyer for the College of St. Benedict and St. John's University.
Mother Teresa and Me: Ten Years of Friendship
Donna-Marie is up there as one of my favorite Catholic authors..I have all but 1 (or 2) of her books..She is a superb author..So when I saw that her new book "Mother Teresa and Me" was on the list for review, I didn't hesitate to pick it..
I enjoyed the endorsements & the Foreword by Teresa Tomeo, but I couldn't wait to start reading the book itself..From the moment I started reading the book, I was filled by a warmth that you get when your sitting or chatting with an old friend..Ms. Cooper O'Boyle's way of describing her friendship with Blessed Mother Teresa is so sincere, loving & respectful in every way possible..
I love the typed letters at the beginning of each chapter from Blessed Teresa..How she took the time to convey her wisdom to Ms. Cooper O'Boyle..It's like a loving mother offering advice to her own child..And the pictures of Blessed Teresa with Ms. Cooper O'Boyle's children to me represented a loving grandmother, who gushes over her grandchildren..
As I got further into the book, the warmth & love continued on in my heart..It was like Blessed Mother Teresa was speaking directly to me..This was no ordinary woman..She was extraordinary..
The personal stories that Ms. Cooper O'Boyle wrote in this book are inspiring also..Especially the story of her & her daughter being in a car accident & the forgiveness of the teenage driver..That was amazing..All of the stories in this book are incredible..You will absolutely be in awe..
There were two things that I really liked in this book..The "Take Time" saying & personal reflection that Ms. Cooper O'Boyle gives is a reminder to all of us to take time in our lives to think, pray, laugh, play, love & be loved, give, read, be friendly, work & do charity..Ms. Cooper O'Boyle goes into detail on these in Ch. 13 called "Take Time"..And the Express Novena..Blessed Mother Teresa called saying "The Memorare" nine times in a row an Express Novena..And there is an example in the book of how it worked for her..
All in all this book is a MUST read..I learned a lot about Blessed Mother Teresa, & how Ms. Cooper O'Boyle had the most interesting & blessed friendship with her..Ms. Cooper O'Boyle also talks about the late Fr. John Hardon..
I take away from this book life lessons..Like how to see Jesus in every person..To love the poor, and to be a light in the world..I also am thinking of joining the lay Missionary of Charity movement..You too will also be transformed by this wonderful book..I highly recommend it.
Review by Carmela at: http://stpeterscatholichomeschool.blogspot.com/2010/02/my-review-of.html
The Domestic Church: Room By Room: A Mother's Study Guide
From the National Catholic Register
"Pope John Paul II wrote that the "little domestic Church, like the greater Church, needs to be constantly and intensely evangelized: hence its duty regarding permanent education in the faith." That's a tall order for busy Catholic mothers. You might even say it's as big as a house: You wouldn't want to clean the whole thing in one fell swoop but, if you take it one room at a time, you'll get the job done. In a systematic course that's equally useful for groups and individuals, this talented author shows how to remodel your home after the spiritual design of Holy Mother Church.
"Donna Marie s latest work is like sharing a spiritual cup of tea with a dear friend. Donna s warm words invite you into the home and guide you step by step through the teachings on the domestic church. The pages are filled with direction and guidance from her own years of experience as a Mom as well as from the wisdom of the Popes, the saints, and great catechists including Father John Hardon. Reading this book, pondering the reflections, and applying the thoughtful questions to your own life will be time well spent, and when you re done you will feel refreshed, fulfilled, comforted, as well as affirmed in your efforts to build a holier family." –Teresa Tomeo, author, speaker, and syndicated Catholic talk show host
Mother's Retreat
The Domestic Church: Room by Room by Donna-Marie Cooper O'Boyle is an excellent study guide for mothers and mothres-to-be on the vocation of motherhood. Donna-Marie guides us "room by room" quoting the Catechism, papal encyclicals, Scripture, and the saints to illustrate the dignity, joy, and the importance of our roles as wives and mothers. By offering an overwhelming Yes to God, even through sacrifice, sufferings, and frustrations of our day-to-day tasks, we fulfill God's will in our lives. The Domestic Church is designed for a group study with questions at the end of each chapter, a Leader's Guide and answers, but can also be appreciated as an individual retreat.~ By Susan Haggerty as seen in Faith & Family magazine
"A few years ago, I participated in a Catholic mother's study and was left feeling…unsatisfied somehow. Since I know many women who have benefited greatly from this particular study, I questioned my general ambivalence, tending almost to negativity. Was I just at a bad place; did I just have a bad attitude?
After a different small group study, based on a different series, I realized what I missed in the first one – though I am a Catholic mom and it was for Catholic moms, it didn't include Church teachings and documents in a way that stimulated me to grow.
When Donna-Marie shared her book The Domestic Church: Room by Room with me, I recognized a study that answers that desire I had – and continue to have – to grow in faith with other Catholic women. It's a great introduction to some of John Paul II's writings on family, packaged in a clever design, where you explore your domestic church one room at a time, starting in the foyer and traveling through the garage, nursery, bedroom, living room, kitchen, dining room, and basement, ending with the porch and patio.
You could use this guide in a small weekly group, or you could go through it alone. (I'm more likely to actually answer questions when I'm in a group setting.) Having your Bible handy will give you a chance to reference the Scripture passages Donna-Marie uses throughout.
The Domestic Church: Room by Room is a study that sits you down, heart to heart, with some of the greatest Catholic minds of our time. It will make you walk through your own home with a new appreciation for your vocation within it."
Review is from "Unam-ecclesiam" blog.
"Although I am a Roman Catholic father and not a mother, which this book is written for, I am preparing this review as its usefulness to the home, to which the father is the head and must ensure his household has the tools and resources to make his household a 'domestic church'. Authored by Donna-Marie Cooper O'Boyle, The Domestic Church – Room by Room offers the Catholic mother a hands-on way to sanctify, what some may refer to as, the daily grind of life. With references to Sacred Scripture, the Catechism of the Catholic Church, the words of Christ, our Holy Father Pope Benedict XVI, Mother Teresa, Pope John Paul II, St. Therese of Lisieux (a personal favorite of mine) and others, Donna brings spiritual meaning and strength to the mother longing for a deeper understanding of her vocation. Most striking is the author's choice of referencing our Blessed Mother in Heaven, the Blessed Virgin Mary as the model of motherhood.
In the book, the author discloses that this mother's study guide works very well in a group setting for mothers, mothers-to-be, and engaged women. However, I can see where it can also work well in a private spiritual retreat. Since silent time away from the children isn't always possible and since many of us parents including myself, rely also on camaraderie for support, a group study of 3 or more would be ideal. Nevertheless, this study guide shouldn't be overlooked just because other mom's weren't available. There is a "How to Use This Study Guide" section in the beginning which provides valuable recommendations for the group setting which can be easily modified for private use.
Each chapter features room for notes that the reader can write in the answer to specific questions, ideas, or other notes that the author presents. This feature is valuable in that studies reveal that we are more likely to accomplish a task if we have first written it down for ourselves. There isn't a more important task in the world than parenting. This book leaves plenty of opportunities to hand-write your personal thoughts, goals, and ideas to give us that additional motivation.
The author emphasizes the husband's participation in the home early in the book. Chapter 2 notes that a kingdom divided itself cannot stand. This chapter offers practical direction, without micromanaging our homes, in communication, problem solving, spirituality, and more. Again there is room for notes so the goals and direction are ultimately the reader's not the author's.
This book will provoke personal challenge, generosity, and a changing of one's old habits to sow more fulfilling seeds of personal and marital growth. This book is recommended to every couple with or without children who seek to deepen their marriage and who seek climbing a higher rung of the ladder to holiness in our own 'domestic churches'."
Review by Karen Edmisten
"The Domestic Church: Room by Room covers much of the same territory, [Karen expressed this after her review of Grace Cafe] but Donna-Marie never seems to exhaust it. Though an individual would benefit from reading, this book is arranged as a study guide for a group, with discussion questions at the end of each section. (And, pssst … don't worry, busy moms — the answers are there, too! So don't worry about passing class.)
The Domestic Church, like all of Donna-Marie's books, backs up its exhortation with solid sources such as quotes from Scripture, encyclicals and saints.
I love Donna-Marie's realism, too. In this book, she includes a beautiful quote from Blessed Teresa of Calcutta:
'A living love hurts. Jesus, to prove His love for us, died on the Cross. The mother, to give birth to her child, has to suffer. If you really love one another properly, there must be sacrifice.'
And she honestly addresses 'temptations to abandon the heart of the home," noting that mothers can get discouraged, or feel unrecognized and unappreciated. She writes: "A mother who is fighting this interior battle may feel, or even state that she is 'just' a mother. I have heard this so often, and I will tell the mom that she is 'not just a mother!'
This is the heart of Donna's message, and this is her mission: to help other moms realize that their work is a vital, vibrant, holy vocation.
I highly recommend Donna-Marie's books to newly married women and new mothers, and to moms of any age who seek encouragement and affirmation in their vocation.
And so, dear moms, if you have any doubts about the worth of your daily struggles, sacrifices and joys, dig into these books. When you've finished, you'll close them with a contented sigh, knowing that someone out there understands your worth and knows what you're going through … that you are storing up treasures in heaven.
You can visit Karen's blog here.
Editor's note: This book is actually a study guide for Catholic mothers to be conducted within a group setting. It can also be done individually.
"I recently had the chance to read the finished galley copy of Donna-Marie Cooper O'Boyle's latest book, The Domestic Church, Room by Room. This incredible text illustrates for all Catholics the need not only to practice the faith on Sunday mornings in our parish communities, but also in every aspect of our personal and domestic activities. Donna provides a tour of the Catholic home and associates particular scriptural, doctrinal and social significance with each room and asks the reader to prayerfully consider their own role as a parent, spouse, child or sibling in living the Catholic lifestyle in all aspects of their personal domestic lives.
The book is intended for mothers to share with other mothers the richness of tradition and spirituality that is associated with Catholic motherhood that also includes the great responsibility of promoting the family's appreciation of faith on a daily basis. The fact that the author makes the book …interactive between prayer, reading and interrogatory dialogues is a magnificent indication and re-affirmation of the Catholic belief in parental responsibility in the religious education of their children. Donna's inclusion of the Catechism of the Catholic Church further solidifies the theological responsibility that the Church entrusts to Catholic mothers (and fathers) in the establishment of a Catholic household…" (Continued here and here at the reviewer's blog.)
This is a review from Sarah at "With a Hopeful Heart" blog
"I've decided to post a book review of the above by Donna-Marie Cooper O'Boyle in weekly segments as I read it. The book is done in a format that I think will work well for a weekly review.
In case you haven't heard of this book, hopefully my very amateur review will help you decide if it is one you'd like to add to your own library. It is available from Circle Press. This book can be used as a part of a study group or for individual use. Each chapter is broken up into 'rooms' for the reader to contemplate different topics and identify them as rooms in their domestic church. My hope is that each week I will read the chapter for that week and then be able to give you several points to ponder and excerpts as well in Monday's post. Hopefully. I think it will also serve as a wonderful way to walk the journey of lent as I focus on my domestic church in the process.
I am really enjoying this book so far and in the first chapter I have already repeatedly gone back to re-read what I've highlighted in order to refocus my meditations on the subject. As I said, this book is written in Study Guide type format for weekly meetings with other women and mothers. It comes complete with thought provoking discussion questions at the end of each chapter as well. It is much more than a study guide though, because it brings to light Catholic teaching through Scripture, papal encyclicals, apostolic letters, the Catechism of the Catholic Church and the words of our great Saints. They are sprinkled throughout as a wonderful addition to the eloquent words of the author.
This Week's focus:
The Foyer: Our Blessed Mother Mary and Motherhood
How can I aspire to imitate such an amazing Mother as Blessed Mother Mary? That's a big question. Mary's "Yes" to the angel Gabriel was a courageous "Yes" to God. It was not a mediocre surrender to God's Will. It was a full, complete surrender to her becoming the Mother of Jesus. What is my answer when I am asked for that surrender in my vocation of wife and mother? I must admit, it is not always the full-hearted "Yes" that Mary gave. I should consider all of my responses to God as a mother, reflecting upon my willingness-or lack thereof-to accept everything that God has for me. This is not always easy as a mother, but I desire that complete "Yes" to my motherly vocation. Like Mary when she visited her dear cousin, Elizabeth, while with child herself, I desire to have Mary-like sensitive attentiveness to the care and needs of others. I love that phrase! Sensitive attentiveness. I will admit that sometimes I do not have sensitive attentiveness towards members of my family and that it does not always come easy. This will be a wonderful phrase to stick on my fridge for this week so that I may become more aware of improving it in my domestic church.
How can we as mothers and women follow Our Blessed Mother more faithfully and discover peace as we follow her "Yes" with sweet surrender? Here's a few things to ponder from the book that I picked out for this week:
'A mother can learn from Mary by asking for God's grace to entrust herself completely to him with the "full submission of intellect and will".'
'For mothers, it means service first in her family and then reaching out to the world. At times, good intentions and a mother's loving heart may cause her to stretch herself too much to administer to the needs of others outside her home. It's wonderful and holy to want to help, yet mothers must remember that their love begins first and foremost at home. Being sure that her family is properly cared for before she embarks in other areas of ministry will ensure that she is not inadvertently neglecting her family in the process of helping others.'
'Silence can ironically be found in the busyness of a mother's day as a mother learns to retreat to her heart even as she is involved in the care of her family. Within the "silence" of a mother's heart, Our Lord can speak.'
'It is when she realizes that Our Lord actually wants to use her attentiveness to her family's needs that she will understand the value and prayerfulness in performing little things with great love. The mother becomes an everyday example to her family as she raises her children in holiness and goes about with a prayerful heart, striving to emulate the Blessed Mother's virtues.'
Isn't that just beautifully said? I think these are all such important things to remember as mothers. I am striving to keep in mind that my small acts throughout the day and my little prayers and offerings in my mind and heart bring holiness and blessing to my home. How important are the needs of my family and the manner in which I attend to them! They are my simple offering that I give daily, along with my morning offering of all my works,joys and sufferings that I pray before the day begins pulling me in all directions. This week I have a lot to focus on and meditate upon as I enter the season of lent. I will need to write some of the quotes down in order to call them to mind frequently this week. I just wonder if I'll have enough room on my bathroom mirror and my fridge to hold them all??"
Review by Kimberly
"It's truly a privilege to write a review on The Domestic Church – Room by Room by Donna-Marie Cooper O'Boyle, for The Catholic Company.
The title of the book intrigued me. As the mother of a large homeschooling family, it's not too difficult for me to see our home as the Domestic Church…our faith is rooted in everything we do and our home reflects our rich, Catholic heritage.
I was immediately taken by the warm, friendly and inviting tone set by the author as she seeks to lead us "room by room" on a spiritual journey of self-discovery…one that ultimately leads us to a deeper appreciation of our role as "the heart of the home. I'm quite sure the sweet metaphor of each "room" will charm you, so I'll not give much away…
The Domestic Church – Room by Room is well written, with thought-provoking questions at the end of each chapter. This book is well suited to large group study, and yet, was a delight for this busy mom to curl up with, all alone at the end of the day. As a wife and mother with more than a quarter century of experience, I can honestly say I found great encouragement in the words of Donna-Marie, the beautiful scriptural passages, quotes from papal encyclicals and from Bl. Theresa of Calcutta.
If you find yourself in need of a 'mini-retreat,' this is the book you're looking for. Set aside a bit of time each day and allow Donna-Marie to lead you gently through your Domestic Church…you'll enjoy the journey!"
Review by Katie:
"When I ordered The Domestic Church: Room By Room, A Study Guide for Mothers by noted Catholic author Donna-Marie Cooper O'Boyle, I was expecting something of a hands on guide to whipping my physical "domestic church" into shape. What I got was something much more meaningful!
Much more than simply a Bible study, Cooper O'Boyle weaves together Scripture, the Catechism, papal encyclicals, as well as quotes from the apostolic letters and various saints, inviting mothers ponder and live out their vocation with the fullness of our Catholic faith.
Starting with the foyer and ending at the patio, each chapter's theme is a different room (for example, Chapter Two: The Garage focuses on the husband wife relationship, while Chapter Three: The Nusery looks at children and openness to life). The chapters are broken into two parts, each ending with questions and space to write out thoughts, as well as a summary. This layout works fantastically for busy mothers, allowing you to stop easily without becoming lost. Instructions for group usage are included at the beginning, but the book also works perfectly for independent study.
Cooper O'Boyle treats the vocation of motherhood realistically and respectfully, and with a warm and gentle tone that compliments and rounds out the myriad references through out the book. Mothers of all stripes, of many or few children, adoptive mothers, some-day mothers, and those whose children have all grown and gone; all will find The Domestic Church an affirming and inviting exploration of the beauty of our faith and the joy of our vocation."
"I recently had the pleasure of reading a copy of noted author Donna Marie Cooper O'Boyle's latest book, The Domestic Church: Room By Room, A Mother's Study Guide. On this twentieth anniversary of Muleris Dignitatem: On the Dignity and Vacation of Women and this fortieth anniversary of Humanae Vitae: Of Human Life, Donna, presents us with an in-depth study guide on the vocation of motherhood. In this inspiring book, she instructs, guides, and encourages women to embrace the gift of motherhood and assists them in developing their vocations to the fullest by providing a personal /group retreat, enabling them to grow in holiness and share this holiness with their families.
In her warm, personal writing style, with gentle, loving care, Donna effectively draws women into a deeper understanding of their roles by taking the reader on a tour of the domestic church – the Catholic home – where each room unveils a beautiful new aspect of the mother's vocation. In each room, she explores the truths of the Church as revealed through Scriptures, papal encyclicals, Church doctrine, and the teachings and words of Blessed Teresa of Calcutta, reflecting on the implications of each as they affect the daily lives of mothers and their families.
In the foyer, we learn about Our Blessed Mother Mary and Motherhood. Through the words of Pope John Paul's Muleris Dignatatem we discover that "to serve means to reign" and to follow the example of Our Blessed Mother Mary in our service to others – first in our family, then in reaching out to the world. We also learn to emulate the Blessed Mother's virtues. Blessed Teresa of Calcutta's life example and her simple, but powerful words about love teach us what it means to love others selflessly as wives and mothers. In subsequent chapters, which are concise but complete, we are welcomed into new rooms, where we learn about the different aspects of motherhood, for example, in Chapter 2, we are escorted to the garage, where we find a husband in the picture and delve into the world of marriage and ways of growing together in love and holiness as a couple.
The Domestic Church: Room by Room acts not only as a tool for spiritual growth, but also serves as a tool for growing in practical knowledge/wisdom, by providing insightful, commonsense solutions to some of the day to day problems women face as wives and mothers. Donna addresses the multiple roles, responsibilities, and challenges that women and mothers face today and the ever changing relationship that couples experience in their marriages. In addition, she provides suggestions for the problems that husbands and wives face in their relationships with one another, as well as with their children. The personal anecdotes she uses to illustrate this makes the reader feel as if they are discussing these issues over coffee with a close friend /spiritual mentor.
The organization of the book makes it easy to use in a group setting, sharing faith and insights with other Catholic mothers or studied individually. At the end of each chapter, Donna provides a helpful summary of the main ideas presented, followed by four or five questions which assist readers in applying the theological and doctrinal teachings to their own lives. It also comes fully equipped with a leader's guide and an answer key.
The book is also appropriate for men as it explores the invaluable role men play in the education of their children in the faith in the family which they, too, are called to embrace.
The main message that is conveyed in The Domestic Church: Room By Room, A Mother's Study Guide can be summed up by Pope John Paul II as he defines the role of the Catholic family: "It will be their task to foster among the faithful a lively sense of solidarity…to favor a manner of living inspired by the gospel and the faith of the Church, a true source of light and a wholesome leaven for other families" (Familiaris Consortio #72).
Catholic adults will enjoy this inspiring book a great deal. It has the potential to transform lives and bring marriages and families closer together, empowering them to be a source of light and leaven to the world."
(Continued at Catholic Exchange today)
Grace Cafe: Serving Up Recipes for Faithful Mothering
From The National Catholic Register
"Ever wish you had a cookbook for life as a Catholic wife and mother … a step-by-step guide for various "domestic church" situations? Consider your prayers answered. The recipe theme may be lighthearted, fun even, but there's real nourishment to be had in this wonderful dish too. Inspiriting entrees — practical ways Catholic women can live out their familial vocation — are seasoned with simple suggestions for answering Christ's universal call to holiness. Lovely poems conclude the book on a note of warmth that will lift hearts beyond the kitchen and point mothers straight toward heaven.
Domestic Church Directions
Looking for inspirational guidance on running your domestic church? Donna-Marie Cooper O'Boyle's Grace Cafe: Serving Up Recipes for Faithful Mothering is filled to the brim with great practical suggestions for feeding our families' spiritual needs. With chapters dedicated to carve out individual prayer time, family prayer, creating family traditions, and raising our children to be saints, Donna-Marie once again shares her loving advice on fulfilling our call to holiness. More than that, though, Grace Cafe addresses the challenges facing women today and delivers a dose of encouragement for meeting motherhood with love and confidence.~ By Sue Haggerty as seen in Faith & Family magazine.
A Review by Father Walter Schu, LC
"Grace Café is an aptly titled book. How does one discover grace – that sublime reality so distant from most people's vocabulary today and, sadly, so often absent from their lives?
Within these pages, seasoned author Donna-Marie Cooper O'Boyle makes that elusive encounter with grace seem as casual and natural as a mid-morning rendezvous with an old friend to share a cup of coffee at the local corner café.
Grace Café is addressed specifically to moms, "serving up recipes for faithful mothering," as the sub-title indicates. Fyodor Dostoyevsky once said, "Beauty will save the world." If that is true, then this simple book could bring many moms one step closer to salvation. Even and especially in the midst of the daily trials of raising a family, such as being confronted with a steadily growing mountain of unfolded clothes, the beauty of motherhood alights from the page to capture hearts.
In response to the culture's utilitarian exalting of careerism for women, O'Boyle ponders the value of being a mother, the transcendent mission it entails: 'Women have been put through the mill, so to speak. However, as Christian mothers, we can consider the fact that nothing can be more meaningful than to be part of the creation of a human being, to be able to nurture it within our bodies, and then raise our child within a loving home – preparing him or her for eternal life. In my opinion, nothing compares – nothing!'
The simple prose reveals a warm mother's heart, as O'Boyle conveys hints on how to carve out time for prayer and savor the grace of the present moment in a family where the young ones always seem to grow up just a bit too quickly. Interspersed with personal anecdotes are succinct quotes from the wisdom of the saints – especially Pope John Paul II and Blessed Teresa of Calcutta, with whom the author was a personal friend for ten years.
All mothers know that their vocation entails its share of difficult moments, and O'Boyle tackles this aspect of motherhood head on in the chapter 'Discovering Grace within Suffering.' She reflects, 'This whole concept of giving and hurting may seem absurd, especially in today's culture. Why should we feel uncomfortable – God forbid – or selfless, when we can avoid it? It's because the love in our motherly heart calls us to it; it beckons us to give of ourselves unreservedly. Real love demands blood, sweat, and tears.' She sums things up with these encouraging words from St. Ignatius of Loyola: 'If God causes you to suffer much, it is a sign that he has great designs for you, and that he certainly intends to make you a saint.'
The book concludes with poems and prayers that any mother will surely identify with. Particularly touching is one entitled 'Seen by God Alone.'
'Her hands are red, wrinkled, and chapped from the bitter wind
As she pins the clothespins, one after another,
To the line of clothes, already stiffening in the freezing temperature.
The bitter wind mercilessly lifts at the hem of her coat,
Attempting to blow through her clothes and whip at her back.
She briskly continues her loving tasks,
Unnoticed by the speeding motorists passing by.
Only Our Lord sees her putting out her family's laundry to dry,
Stretching out her arms,
Hanging out one wet article of clothing after another,
As only a mother's love can.
Our Lord will never fail to notice all mothers'
Seemingly hidden loving acts of service to their families
All around the world.'"
Review by Karen Edmisten
"Donna Marie Cooper O'Boyle is a prolific writer. Her latest books — yes, plural! Two of them! — are as lovely and inspirational as her other work, most of which is built on the conviction that mothers are living out an indispensable vocation.
Grace Cafe offers 'recipes' that will nourish any mother, perhaps especially anyone struggling with her vocation as a stay-at-home mom. I readily identified with this passage:
'Others would say, 'Oh, it's nice that you have the luxury to stay home.'
Yet I believe that it is not a luxury. It is a choice and a decision to do without some material things and comforts ….'
This has certainly been true in our case. At times, it doesn't feel like a luxury at all to be at home, but rather like the sacrifice that it is. Don't get me wrong — I love being an at-home mom, and it is a privilege. But a privilege is not the same as a luxury. Serving God is always a privilege, even when it's hard. Financially, emotionally, and in other ways, being a stay-at-home mom can be hard. But mothering has eternal value, and Donna-Marie knows this truth.
The truth is reinforced with quotes from Scripture, the Catechism of the Catholic Church, Pope John Paul II, and various saints. And, don't all moms need such authoritative and powerful reinforcement? Particularly the kind that helps us to find holiness within our homes, rather than encouraging us to seek it elsewhere. Grace Cafe includes one of my favorite quotes on holiness for moms:
'It is most laudable in a married woman to be devout, but she must never forget that she is a housewife. And sometimes she must leave God at the altar to find him in her housekeeping.'
You can visit Karen's blog here.
Review from Elena Maria:
"I started reading Grace Café by Donna-Marie Cooper-O'Boyle in Cool Beans Coffee Shop in Bellefonte on one frozen February morning. My husband and I can often be found there on Sundays while CCD Donna Marie Cooper O'Boyle is a prolific writer. Her latest books — yes, plural! Two of them! — are as lovely and inspirational as her other work, most of which is built on the conviction that mothers are living out an indispensable vocation.
Grace Cafe offers "recipes" that will nourish any mother, perhaps especially anyone struggling with her vocation as a stay-at-home mom. I readily identified with this passage:
'Others would say, 'Oh, it's nice that you have the luxury to stay home.'
Yet I believe that it is not a luxury. It is a choice and a decision to do without some material things and comforts ….'
This has certainly been true in our case. At times, it doesn't feel like a luxury at all to be at home, but rather like the sacrifice that it is. Don't get me wrong — I love being an at-home mom, and it is a privilege. But a privilege is not the same as a luxury. Serving God is always a privilege, even when it's hard. Financially, emotionally, and in other ways, being a stay-at-home mom can be hard. But mothering has eternal value, and Donna-Marie knows this truth.
The truth is reinforced with quotes from Scripture, the Catechism of the Catholic Church, Pope John Paul II, and various saints. And, don't all moms need such authoritative and powerful reinforcement? Particularly the kind that helps us to find holiness within our homes, rather than encouraging us to seek it elsewhere. Grace Cafe includes one of my favorite quotes on holiness for moms:
'It is most laudable in a married woman to be devout, but she must never forget that she is a housewife. And sometimes she must leave God at the altar to find him in her housekeeping.'
are in progress. Cool Beans has comfortable arm chairs and a gas fireplace; it is the perfect place to curl up with a cup of coffee and read a wonderful book. It was especially suited for reading Grace Café, which further develops many of the themes put forth in The Domestic Church, but in a more personal and conversational style.
Once again, Donna-Marie shows us the meaning in the meaningless. That is, we have been convinced by the world that everything we women do in order to run a home is meaningless, since we are not bringing in a pay check to do what we do. Here are some lines that I highlighted in my copy of the book:
'We live in a society where, sadly, a woman's value is most times measured by the size of her paycheck or lack of one. If a mom decides to devote her time to her family's care without pursuing outside employment, she may be considered to be less significant or inferior….'
'I have experienced jabs of jealousy and criticism from others at times because I was committed to raising my children full time….Others would say, 'Oh, it's nice you have the luxury to stay at home.'
'Yet I believe that it is not a luxury~ it is a choice and a decision to do without some material things and comforts to be there for our little ones; it also requires putting aside our own aspirations for achievement in a particular field or direction. We have brought children into the world or accepted children through adoption, we should care for them assiduously (pp.24-25)'
While Grace Café is an immensely charming book, it takes a searing look at the attacks upon the family and upon women which masquerade as liberation.
'A woman is given a role to care for others, specifically because she is a woman, because she is feminine. Femininity is a beautiful thing! Radical feminism is ugly. Woman have to realize that from their femininity will blossom many graces and blessings for society and for their families. Attempting to change a woman into a man does nothing but confuse matters and destroys families in the process….(p.96)'
Since not all women are called to be mothers in the physical sense, Grace Café explores the different ways of 'mothering:'
'Obviously, not all women are mothers; however, they can be mothers to others in their midst because women are given motherly hearts. I know many women who are not mothers but who are mothers to so many around them. (pp.96-97)'
Rich in quotations from Scripture, saints, and pontiffs, Grace Café combines simplicity and profundity in an amazing manner. With Our Lady and St. Joseph as companions, we can find holiness in the fulfillment of the everyday duties of our states of life. Even when Donna-Marie is pointing out the flaws in our society, her tone is always one of hope and encouragement; it is a book which uplifts and energizes, not just in a sentimental way, but in a manner that inspires transformation in behavior as well as in attitude."
Review by Renee
"I chose to read and review Grace Café: Serving Up Recipes for Faithful Mothering based on this description: "Ever wish you had a cookbook for life as a Catholic wife and mother…. a step-by-step guide for various "domestic church" situations." While there are no recipes for tasty dinners, the author does give 'recipes' for ways to incorporate our Faith more fully into our daily personal and family life.
From the beginning, O'Boyle acknowledges that a mother's life is busy but still our Lord is calling us to holiness. She reminds readers that our Lord "placed mothers in the heart of the home" and that we can be sanctified in the everyday tasks of wife and mother.
We are reminded to find time for prayer, teach our children to pray and to remember to keep holy the Lord's Day. O'Boyle shares a long list of practical suggestions to make Sunday a more special day in our family while acknowledging that the world doesn't share the same outlook.
I love the way the author inserted quotes from Scripture, the Catechism, saints, encyclicals, and even a Catholic dictionary. Each chapter begins with a quote and ended with a 'recipe card'. The only thing missing from this book are discussion questions. I will be recommending this book to our parish's Moms' Ministry for consideration for reading and discussion next year."
Review by Jennie
"It arrived at just the perfect time. On a bright Friday afternoon, coming home from the hospital with our newest baby, we stopped by the mailbox, and there it was, all wrapped in white: Grace Cafe by Donna-Marie Cooper O'Boyle, my newest review book from The Catholic Company. I was looking forward to it because I hadn't liked either of my other two review books and, well, I figured something had to give. I was delighted from the start. I loved this book for its conversational style, its short, easy to read chapters, its encouraging tone, and its very practical advice. In fact, I'll likely read it again before fall, just to make sure all that encouragement and good advice sinks in. 🙂 I loved it best of all for its clear portrayal faithful Catholic mothers as dignified, beautiful, and, yes, even heroic. Now when was the last time you thought of yourself as heroic?
Weaving into her own experiences advice from Mother Theresa and Pope John Paul II, Donna-Marie Cooper O'Boyle encourages us toward holiness with warmth and wisdom. She covers everything from finding time for prayer to self sacrifice to raising our children to be saints to keeping the Sabbath to living in the present moment. There is a lot to think on and glean here."
This review is from Barry Michaels
"I came upon Grace Cafe before my wife did. It's for mothers, but familiar with Donna Marie Cooper-O'Boyle's work, I took a look and knew my wife would like it. I quickly found out I was right, because she made several comments to me as she read it about how good it was. When I picked up the book later, I noticed that she had highlighted several passages and even made notes to her self in the margins. Seems to have been worth her time! And it led me to spend even more time with the book, too. Much of her wisdom is just as relevant to being a good dad and husband as to being a good mom and wife.
Donna Marie eaily weaves practical, personal experience together with the wisdom of the saints and the teaching of the Church. I love that she can write about teaching a child to pray, doing laundry, and handling family dinners that are less than Norman Rockwell-perfect as comfortable and helpfully as she can draw out the teachings of Pope John Paul II and the Second Vatican Council.
This book is a sure recipe for a healthier, happier family life."
This review is from Dawn at A Helping Hand blog:
"A generous serving of love at Grace Cafe. Donna Marie Cooper-O'Boyle has given us just that in her beautiful book Grace Cafe.
She fills you up with truths from Church documents, encyclicals and inspiring words from such saints as Therese of Lisieux and St. Joseph. She truly shines her light on Christian motherhood.
Donna Marie shows us mothers how to turn our everyday lives into one constant prayer and offering to the Lord. Beginning our day with prayer for our families. Asking Our Lord to bless our families and our husbands.
As wives and mothers we are placed by specially appointed keepers of our domestic churches. The opportunities to holiness are endless. Holiness is found in the teaching of prayers to your children, in fixing supper for your husband and even in the laundry piled high.
I highly recommend this book for those occasions when you feel overwhelmed by it all. This book ends with some beautiful prayers and poems that will renew and refresh you."
Review by Mary-Eileen
"One of the hardest tasks in the world is to stay home alone all day with small children, doing all the minuscule yet vital tasks which keep a family physically and spiritually healthy, but which the world no longer values. Work is measured in terms of how much money it makes. It is forgotten that children have only one childhood and the love they don't get from their parents they will never get at any other time. What greater success in life is there than the raising of happy, faith-filled children? To do that properly requires one's entire being.
There is a wisdom about life and people which can only be learned by being a mother. The Domestic Church: Room by Room by Donna-Marie Cooper O'Boyle is redolent with such wisdom. We have forgotten the secret to sanctity that past generations possessed. Holiness is to be found in the present moment, in the humblest tasks which, when performed with love, are of greater merit in the eyes of God than works that are magnificent but loveless. Donna-Marie discusses the nature of a mother's sacrificial love, as follows:
The list of sacrifices and sufferings is endless, as is a mother's love. If we really love our children properly, there must be sacrifice; otherwise, there is no real love. A mother's connectedness to her child, which continues even after the umbilical cord has been severed, allows her to truly experience a sacrificial love- a love that puts her own interests and needs on hold, a love that continues to give even when it hurts. (pp. 156-157)
Donna-Marie explores many issues which at times beset mothers of families, saying:
'Mothers, as we know, have a difficult job in the home coupled with the fact with the fact that society oftentimes demeans the role of a mother by 'measuring' her worth by the size of her paycheck. There are areas that a mother may try to 'escape' to in order to feel more accomplished while inadvertently neglecting her family….'
'Diapers, demands, laundry, and dishes are not the only activities filling a mother's time. However, a mother may begin to feel frustrated and dwell on what she feels is her lack of accomplishments. She may also fail to see Our Lord's hand in her housekeeping because of the mixed messages from our society aimed at mothers and also because she may be exhausted and in need of encouragement. Mothers should strive to help one another with Christian camaraderie and encouragement for the journey (pp. 113-114).'
The book integrates the basics of Christian spirituality with the practical side of running a home. Although the means of giving apostolic witness may seem limited for housewives, we are reminded about the power of the little things which are at our disposal. To quote:
'While remembering that our example speaks louder than our words, we can feel confident that even out at the grocery store, the post office, the bank, and other places where we do our errands, God is sure to put people in our path. A simple smile, a door held open, a listening ear to someone we meet who has an immediate need, giving a hand to a mother with many children in tow- all kinds of situations arise in which we can lend a hand….Through little acts of kindness, miracles do happen. A simple smile and a kind word may have been just the little act of love that a lonely person absolutely needed so as not to fall into despair that particular day…. (p.213)'
Donna-Marie is an excellent teacher; after reading The Domestic Church it came as no surprise to discover that the author is a lay Missionary of Charity, following the path of Blessed Teresa of Calcutta. I am especially impressed by the order and clarity with which this book is written, complete with study guide that would make it perfect for a parish discussion group or a wonderful companion on a retreat. Quotes from Popes John Paul II and Benedict XVI about the condition of marriage and family life in the modern world make the book particularly relevant to the present time. I am looking forward to next reading Donna-Marie's newest book, Grace Café." (To visit Mary-Eileen's blog, click here)
Book Review: Grace Cafe by Donna-Marie Cooper O'Boyle
"I'm so blessed to be a part of The Catholic Company's blogger review program. I get little pieces like this book, the title in it's entirety is Grace Cafe: Serving Up Recipes for Faithful Mothering.
It is written very much like a letter that your good friend across country would write you. It was a very easy read (3 days with two preschoolers underfoot and a household to run, AND a 13 hour birth I doula-ed for). Each chapter has a Theme Ms. Cooper O'Boyle addresses. All of which are very applicable to every mother out there.
I took from this book many examples from my personal favorite holy person, Pope JPII the Great, as well as Blessed Mother Teresa and various other saints in our history… our current Pope, Benedict XVI is quoted with his feelings on motherhood, and parenting in general.
You might be surprised if you're expecting an A, B, C "guide" per se to being a faithful mother. This is more a work of encouragement- that being a mother IS a true, valuable vocation- even if society devalues a woman that has the "luxury" of staying home. Truth be told, I work a business from home because we cannot afford, on two incomes, daycare for our children. So we budget and do without a lot of things my husband and I took for granted when we were a family of three. I came from reading this book refreshed that I am valued for what I'm doing, regardless of what our bank balance is.
This book also gave me a bit of encouragement that I can be a loving mother and a spiritual woman at the same time. God wants us to lift up the elevated blood pressure and dirty dishes. A "God please help me on this" is just as valuable in His eyes than the Litany of the Saints…at the same time, He wants the "Thank you Father" when your 3 year old FINALLY has an accident-free (toilet) day…
Another point that struck me is the emphasis on making Sunday a day for God and your family. While my husband works evenings on Sundays, we make sure to have breakfast and family time after mass, before he has to go to work. I'm sure it'll pay off with interest when our children are grown and on their own, as well as when I'm watching my life with God in Heaven.
I really recommend this book if you're feeling a little jaded or overwhelmed being a mom (and that goes for working moms too!)."
Visit the reviewers blog here: Superdoulamom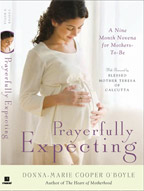 Click here for an article from the Catholic Standard and Times about Donna-Marie and her book, "Prayerfully Expecting" along with beautiful images…
http://www.donnacooperoboyle.com/press/catholic_standard.pdf*
A very special gift for a very special period of life
By Nicole in Germany
"The book Prayerfully Expecting is an outstanding book on the period of pregnancy. It gives you both useful information on what is going on inside of you (which I, being a doctor myself, especially appreciated) and spiritual guidance. It really helped me to firm my relationship to my child in the first weeks and months.
Written as a nine-month novena it is easy to pray. Additionally, I have to mention the beautiful illustrations by the author´s daughter, Chaldea Emerson. I haven´t seen any similar book in Germany, where I live, so far."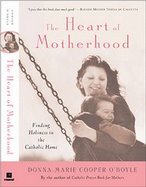 The Heart of Motherhood: Finding Holiness in the Catholic Home
Author Delivers a Message for Catholic Mothers
Filed under: News, Press — Donna-Marie Cooper O'Boyle at 11:19 am on Wednesday, October 11, 2006
Author delivers a message for Catholic mothers
By Patricia D'Ascoli
SPECIAL TO THE NEWS-TIMES
October 11, 2006
Author Donna-Marie Cooper O'Boyle has a mission. As a devout Catholic and mother of five who has dedicated the past 29 years to raising her children, O'Boyle is now encouraging other Catholic mothers to embrace the vocation of motherhood.
With the publication of her new book "The Heart of Motherhood: Finding Holiness in the Catholic Home," she hopes to share her message about the sanctity of motherhood.
O'Boyle is passionate about her ministry to mothers, and says that this is something she has been doing since last year's release of her bestselling book, "Catholic Prayer Book for Mothers."
The author frequently speaks to groups about the vocation of motherhood and its importance. Not a fan of public speaking, however, O'Boyle says that she has had to overcome her hesitation because she feels that she has been called by God to share her message with other mothers.
Somewhat surprised by the response of women who have been moved to tears by her talks, O'Boyle remarked, "I am happy if the Lord can use me through the words that I say or write to help women."
She added, "Motherhood is a very lofty vocation and hopefully they will be able to embrace it fully and have peace of heart and soul."
O'Boyle notes that women can often feel confused, inadequate or depressed because they are trying to figure out what they are supposed to do.
"I've always tried to help mothers realize that life speeds by," she said, "and it is important to be there for your children as much as you can when they are little because it is so critical to their development."
In her soft-spoken voice, O'Boyle explains that her books are aimed at mothers who are striving to find more meaning in their vocation and are looking for a deeper relationship with God.
"I try to impress upon them that it really can be done and it really is quite easy," said O'Boyle. Calling her concept a kind of revolutionary approach to prayer, O'Boyle says that she tries to help mothers realize that their very lives are a prayer, because they are the ones God put in the heart of the home to take care of the children. O'Boyle believes that her philosophy is empowering and hopes that it will provide comfort to mothers.
Her book has been blessed by Pope John Paul II and endorsed by Mother Teresa who read the manuscript, as O'Boyle wrote the book 16 years ago when she was on bedrest during a pregnancy.
The book offers Catholic mothers a way to practice their religion in a simpler, easier fashion. But the author is humble about her role in encouraging mothers to embrace the vocation of motherhood while also drawing closer to their faith.
"I feel God's calling me to do it," O'Boyle reflected. "God gave me the grace to write these words."
O'Boyle finds her work extremely fulfilling. "It's amazing what words can do. I weave these words together for inspiration to other people."
Donna-Marie Cooper O'Boyle will be signing copies of "The Heart of Motherhood: Finding Holiness in the Catholic Home" (Crossword Publishing, $14.95) at Waldenbooks at 7 Backus Ave. in Danbury on Oct. 14 at 1 p.m. For more information about the author, visit www.donnacooperoboyle.com
LIFE CHANGING!
Kim Venneman Cooper, A reviewer, 04/29/2008
I am a mother of 3 children ages 3 and under and have read THE HEART OF MOTHERHOOD and it has truly changed my life! The author's outlook on the vocation of motherhood could only have come from the Holy Spirit….Donna Marie Cooper Oboyle's writings are awe inspiring. I encourage all mothers to read this book. It is easy reading and one you can't put down. The writings of this book are ones you remember in the middle of the night when you are up with sick children and want to break down and cry or the days you don't know how you are going to make it through the day….the voice of this book sticks with you and truly helps you become a better mother and helps you to live a holy life at home. IT is a reminder of the true vocation of motherhood that has been lost in today's society. I am starting a mother's group at my church based on this book because the message is so powerful that all mothers need to be touched, encouraged and inspired by the words of this book, especially in today's world!
This review is from Heather in Sweden
"I am reviewing the book The Heart of Motherhood: Finding Holiness in the Catholic Home by Donna-Marie Cooper O'Boyle.
Donna-Marie's book "The Heart of Motherhood" really came at the right time for me, as I've been, over the past 4 years, always defending being an at-home parent. Some family members, a lot of friends at a playschool my son and I go to, are always asking when he'll be in daycare or pre-school and when I'll go back to work. That's when I can proudly tell them that I take pride in my vocation as a Mother and chose not to put my son in daycare after maternity leave and look for a job. It seems like in Sweden, women are only home with their children under the 15 month parental leave and then they are chomping at the bit to get back to work and put their children in daycare. 8 out of 10 times, when they ask if my son's in daycare and I'm working, I tell them no, that I'm an at-home mom… and I get in reply, "Ahaaa…lucky you who can be home so long…you're a "luxury housewife"." (Swedes say "lyxhustru", referring to almost a Desperate Housewife tv show kind of status.) And I don't see why being an at-home parent is such an odd thing in this day and age? You bring a child into the world, it's your responsibility as a parent, to take care of it… and not feel guilty about it… and with this book, I finally felt so good about being home for my family because I knew it was what God wants for me as well as what I really want. The thought of working outside the home and being away from my family, doesn't not make me feel very good. So I know I am doing God's will and living the life I should, as a Catholic Christian woman. This book is filled with beautiful prayers, a lot of inspiration from the Blessed Mother Teresa of Calcutta, some Popes and some Saints. I could not put this book down, and every free chance I had I had my nose in it. So if you're a Catholic mother, you will definitely love this book, as it gives you so much rest assurance that you are doing a great job as a Mother, being an at-home parent, where God has placed you. I warmly recommend this book, and will do so, to all my Catholic mom friends and acquaintances. Thank you Donna-Marie for such a wonderful book for us Catholic at-home moms! God bless you!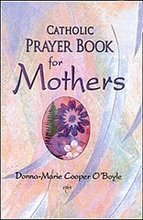 CATHOLIC PRAYER BOOK FOR MOTHERS
Review by The Catholic Transcript
Filed under: Press — Donna-Marie Cooper O'Boyle at 3:07 pm on Thursday, July 6, 2006
Book Review
By John Bohuslaw,
Features Editor, The Catholic Transcript
An old proverb states, "God could not be everywhere, so he made mothers." A recently published, 64-page Catholic Prayer Book for Mothers, printed by Our Sunday Visitor, focuses on the unique spiritual challenge God places on mothers to be everywhere and everything for their children. Written by Donna-Marie Cooper O'Boyle, a member of St. Francis Xavier Parish and mother of five, the book has suddenly become one of the best-selling Catholic books of the year. Catholic Prayer Book for Mothers has been ranked by the Catholic Publishers Associations as one of its top ten books for October 2005, and the sales are continuing to grow. Mrs. O'Boyle was encouraged to write the book by Blessed Teresa of Calcutta, who wrote an introduction: "My gratitude is my prayer for you that you may grow in the love of God through your beautiful thoughts of prayer you write and thus share with others…I pray it does much good." Mrs. O'Boyle opens the book with an expression of God's special relationship with mothers. "After all," she says, "he enters into a partnership with them to create life." While Mrs. O'Boyle frequently reiterates the need for prayer and the essential influence that daily prayers can make in one's life, she recognizes the many other everyday challenges that a mother must face. She says it obviously would be "wrong to drop everything to kneel down and pray" when a baby is crying for attention, a sick child is in need of care or a family is waiting for dinner. "So how does a mother remain faithful to prayer and yet keep up with her work around the clock in the home? The key to inner peace for a mother is to find a balance between a prayer life and her duties and care of her family," she says. Mrs. O'Boyle writes that a faithful mother soon learns that in order to survive, her life should become a prayer. That's the clear and unmistakable message of the easy-to-read book, connecting the dailiness of life to various forms of prayer. She suggests and gives examples of three forms of prayerful expression: vocal, meditative and contemplative. The book is divided into 12 chapters, focused either on a particular aspect of mothering or contemplative prayer. Chapter titles include: Holy Nurturing, First Teacher, An Imitation of the Blessed Mother and Wisdom of the saints. Occasionally, there are commentaries and prayers where one might least expect them, such as a passage titled "In My Laundry Room." Mrs. O'Boyle writes, "As I carefully fold my sheets, smoothing out the wrinkles, bringing corner to corner…Lovingly, I think of you, my Lord." In addition to Mrs. O'Boyle's reflections, the book is replete with prayers and quotations from such saints as Thomas Aquinas, Elizabeth Seton and Francis of Assisi as well as Blessed Teresa of Calcutta. Mrs. O'Boyle is a freelance writer for several Connecticut newspapers, [as well as magazines and Catholic publications]. She also founded, at her parish, a Marian Mothers group and a local branch of the Lay Missionaries of Charity. After submitting a copy of the book to Pope John Paul II, Mrs. O'Boyle received an apostolic blessing on her book from him. The book's universal appeal to mothers may make it a perfect gift during almost any season and especially at Christmas. The book bears both a nihil obstat and an imprimatur. By John Bohuslaw, Features Editor Vol. 9, No. 12, December 2005 – The Catholic Transcript, The Newspaper of the Archdiocese of Hartford, CT
THIS PAGE WILL BE UPDATED WITH REVIEWS AS TIME ALLOWS. OTHER REVIEWS CAN BE FOUND ONLINE AT AMAZON.COM OR BARNES & NOBLE.COM AND ELSEWHERE