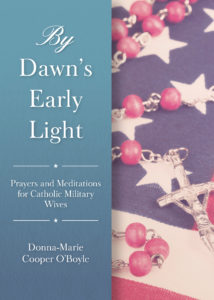 My prayerbook for military women is now available! I feel very blessed that my dear friend Father Andrew Apostololi gave me some words of endorsement in his last days which you will see on the back cover of the book. This book is not simply a prayerbook, but a compilation of stories of the brave military women whom I have interviewed who juggle many endless, special, and often heartbreaking demands placed on military families – – demands not addressed in most prayer books. And, like so many other military wives, they've got to bear these burdens alone, and sometimes even silently.  I wanted to shine a light on these women and tell the world of their heroism. I believe that my book, By Dawns Early Light shines the healing light of Christ on that heroism, giving honor and praise to the women and to God of course, as with Him they fulfill the duties and experience the joys of the noblest of all the vocations: that of a military woman!
I have partnered with Sophia Institute Press to create this unique prayer book for Catholic military wives. I believe that it is a book for all Catholics, especially those who want to learn more about the unique lives of Catholic military women who's heroism doesn't remain on the battlefield, but is woven into the fabric of their lives.
You can see more here at my website: as well as opportunities to purchase this book for yourself or a loved one.